5-Day Homework Rule:


​Math homework is assigned Monday – Thursday, except on test days. Homework is due the very next day (unless other directions are given). Homework is used to build independent study habits, reinforce material taught that day and material taught earlier, and to prepare students for future learning. Students are encouraged to come to tutorials in order to get help to keep up with homework. Students who forget to do their homework will have 5 days to receive some credit. After the 5th day, the assignment will not be graded for credit in the gradebook.
Powered by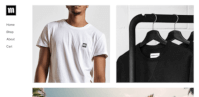 Create your own unique website with customizable templates.